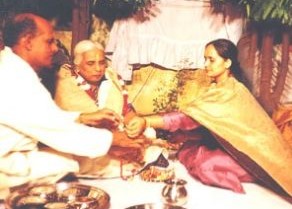 Guru-Shishya Parampara is an ancient tradition of passing on gyan or knowledge from Guru (Mentor) to shishya (Disciple) through verbal invocation. The origin of this tradition can be traced to Vedic Times with Guru imparting religious lessons to shishya in the Gurukul, where shishya resided with the Gurus to learn methodical teaching through close association with the Guru.
A special ceremony is held to mark the occasion of Guru accepting a disciple by tying a ceremonial thread on the wrist of the student. This ceremony is called 'Ganda-Bandhan' where Ganda means 'Ceremonial thread' and Bandhan means 'Tying' thus binding the disciple to the learning of the Guru.
In Banaras Gharana, Gandha-Bandhan symbolises acknowledging a shishya as worthy of carrying forward legacy of Guru. This ceremony is held to mark handing over the legacy to shishya for him /her to tread on his /her journey independently after shishya has performed and shown his /her metal at prominent music festivals.
With the Gurus : First Guru Father Pandit Sudarshan Sharma and Padma Vibhushan Dr. Girija Devi ji.